How to Pass On a Passion
On long-term challenges for new private museums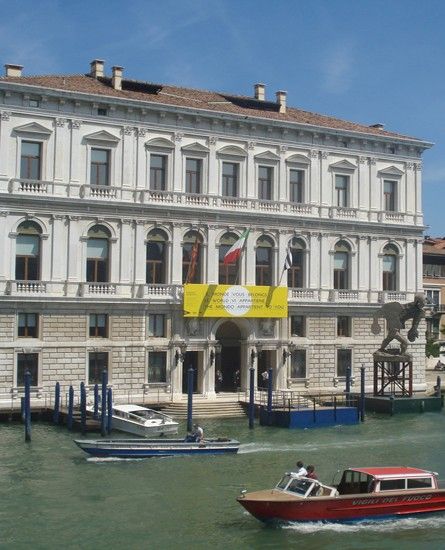 Palazzo Grassi in Venice, 2011
An observable trend of the past years and a safe prediction for 2015 is that the concept of the "single – donor" museum is at the forefront. Now more than ever, private art collectors are opening up their collection to the public by founding influential institutions such as the Foundation Louis Vuitton in Paris, The Francois Pinault Foundation – Palazzo Grassi in Venice and the new Broad museum to open in Los Angeles this autumn. Certainly, the role and mission of these institutions – such as their accessibility and community involvement – has become a widely discussed topic in the art world.
A less talked about issue is what will happen to these museums once the founding collector has passed away. Journalist Jori Finkel from The Art Newspaper addressed this question in her recently published article: will there be life after death for new private museums?
Considering the age of many collectors, asking how they plan to ensure "the vitality and flexibility of their prized institutions beyond their own lifetimes" appears to be a legitimate question. Finkel mentions collectors such as Bernard Arnault of the Foundation Louis Vuitton, The Rubells as well as Eli Broad, and discusses their different outlooks on the years to come. Arnault for instance has agreed on turning over his collection building, designed by Frank Gehry, to the city of Paris in 2062, but has not mentioned details about any sort of collection endowment. Philanthropist Eli Broad on the other hand has already announced to endow his new museum at over $200 million. For many however, it remains uncertain what will happen to their art one day. Whether donated to a charitable foundation, or left to the heirs, possibilities appear to be manifold.
Similar to public institutions, also privately run museums have become a part of their local communities – so the question remains how this engagement will continue in the future. For the Rubells in Miami it is clear: their children and grandchildren who are also already passionate art lovers will continue what they have successfully built up thus far.
Amended Image by Alma Pater via Wikimedia; CC Licence Info