Gifts for Philadelphia
Private collectors with a generous heart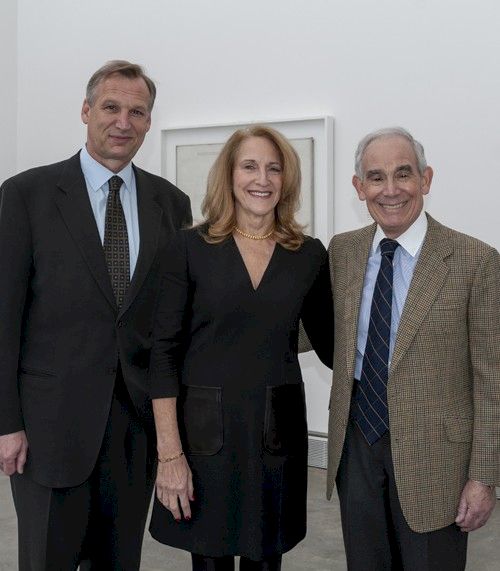 Timothy Rub (left), The George D. Widener Director and CEO, with Katherine and Keith L. Sachs
Especially in the United States, private collectors have a significant influence on the museum landscape. As the New York Times has recently reported the art collectors Keith L. and Katherine Sachs have supported the Philadelphia Museum of Art in a number of roles since the 1970s; Keith L. Sachs as a longtime trustee and his wife as an employee of the museum's public relations department. Later on Katherine Sachs became an adjunct curator of the museum.
Earlier this month the Philadelphia Museum of Art announced that Keith L. and Katherine Sachs will be cementing their legacy by gifting over 97 works by contemporary American masters to the museum. Carol Vogel of the New York Times reports that the gift includes seminal works by the likes of Jasper Johns, Ellsworth Kelly or Gerhard Richter. Auction house experts, who assessed the collection, estimate its worth nearly 70 million dollars or nearly 52 million euro.
Timothy Rub, director of the Philadelphia Museum of Art, has said that the gift will be transformative and will fill crucial gaps in the museum's holdings. But gifts of this significance also beg the question: "Do we have sufficient space to show the art?" Luckily the museum board endorsed a renovation and expansion plan proposed by star architect Frank Gehry earlier this year. An additional 223,000 square feet of gallery space will be created, which will surely be put to good use!
The gift from Keith L. and Katherine Sachs will undoubtedly have a grand impact on the museum. The first tangible effect will take place on the 3rd of March 2014 when in a dedication ceremony the modern and contemporary art galleries will be renamed after the generous donors.
Image by Constance Mensh, Philadelphia Museum of Art and via Wikimedia Commons CC Licence Info