Kamiar Maleki
Director at VOLTA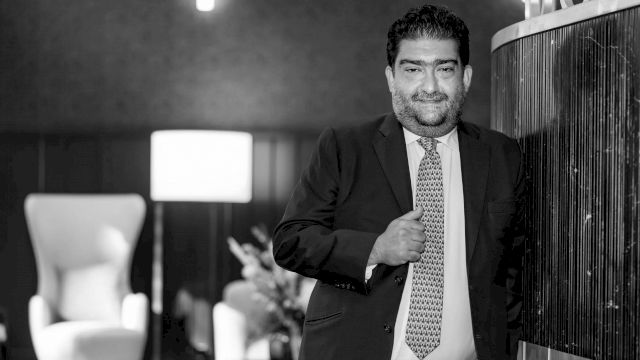 VOLTA Director Kamiar Maleki, photo Kenneth Nars
Tell us a little bit about the history of VOLTA.
VOLTA debuted in Basel in 2005 aimed as a platform for international galleries beyond young art fair Liste and market heavyweight Art Basel. VOLTA's New York fair followed in 2008, offering a solo and boutique alternative to the crowded trade show tradition of New York fair weeks.
Fast forward to autumn 2019, Ramsay Fairs acquired VOLTA. I was appointed as director and have recommitted the fair to building the foundation and platform for younger galleries to participate in the art markets' major cities. Our goal is to support galleries in staging ambitious solo and group presentations, refining the experience to its essential elements: the artists and their work. This focus on compelling visual statements by up-and-coming and established artists cultivates a vibrant and approachable environment of discovery for the engaged collector.
This spring, VOLTA returns to New York during Frieze Week followed by the fair's 17th Basel edition from June 13 to 19.
How do you, as fair director, ensure that the event stays contemporary and current in the fast-paced world that is the art market, and affected by global predicaments like the pandemic?
We've truly pushed the limits of what the past months made possible. In advance of this fair edition, we re-strategized and re-positioned, traveling to cities like Copenhagen, Vienna, Madrid, Budapest, Abu Dhabi, Dubai, Mexico, New York, and Miami to cultivate new exhibitors, fresh talent, and wider constituencies. As a collector myself, I am always boots-on-the-ground across the international art world to stay abreast of new trends and to experience diverse artistic expressions in person.
With a steady number of returning and established exhibitors from the early VOLTA days to a new group of young and emerging galleries, VOLTA Art Fair continues to be a place where you can discover artists and talent.
Is there something as part of this year's VOLTA New York program that you are particularly looking forward to?
I'm quite active in the crypto and web3 communities and have been an early proponent of digital art and NFTs. I'm thrilled to note that among the New York fair's highlights is the introduction of our first-ever VOLTA Spotlight Prize for NFTs, presented in collaboration with Artsted which delivers a $2,500 grant to an artist presenting NFTs at the 2022 New York edition. The prize winner will be deliberated by an external jury of digital art experts and tastemakers and I am energized by the prospect of bringing this new audience and perspective into VOLTA's program.
Beyond the prize, we are also inaugurating our new location in the heart of Chelsea's art district. The building — located at 548 West 22nd Street — has a long pedigree of being an arts hub. It was formerly occupied by the esteemed Dia foundation and housed the Hauser & Wirth gallery space. With its proximity to the Frieze art fair at The Shed, we hope the new location fosters a sense of momentum, becoming a hub during fair week.
What do the artworks being presented at this year's fair reveal about the current trends and market?
VOLTA New York will feature a strong selection of solo presentations, many of which maintain all-female presentations or are made possible due to female-led programs. We are also a highly international cohort of galleries so many of these solo presentations are in fact the first solo these artists have received in New York City.
In thoughtfully curating our cohort of exhibitors, we've assured that this year's fair is demonstrating strong presentations from diverse perspectives that reflect the cutting edge of the market. It is not unusual for our exhibitors and their artists to exhibit works with VOLTA before being exhibited at prestigious international biennials, museum shows, and other forums.
What advice do you have for the collectors that will be attending the fair this year?
I always return to the word "discovery." It is critically important that collectors, both new and seasoned, feel driven by a sense of curiosity that leads to new discovery. I encourage collectors to dialogue, ask questions, look closely, and assess artistic merit on their own terms. I am confident that by approaching not only our fair but the wider market with a desire for discovery, collectors will feel satisfied that they've acquired works that bring them joy and have intrinsic, personal value.
What is your biggest hope for a post-pandemic Art World?
After the unfortunate challenges of the pandemic, which disproportionately affected certain players in the art market, I hope we may see new players emerging that serve to level the playing field. It appears that the international art fair circuit is returning to a sense of normalcy, at least in terms of the volume and regular scheduling of these fairs, but I'm hopeful that we don't reach the same level of market saturation that we saw before the pandemic. We as a market really need space for new players to enter, for new artists to be discovered, and for middle-market galleries to share a stake in the game.
In addition to VOLTA, what exhibition or event is on your "must-see" list in New York?
There is a solo exhibition of Frédéric Bruly Bouabré's works at MoMA in New York on view through August. Bouabré will be exhibiting with Ethan Cohen Gallery at VOLTA New York and is also representing the Ivory Coast in the Biennale. Seeing artists that exhibit with VOLTA receiving their due beyond the fair is both personally exciting and professionally rewarding considering the care we take in cultivating thoughtful presentations with great exhibitors. This reinforces our position in stating that you can discover artists at VOLTA before they become household names.