Galerie Forsblom – Helsinki, Finland
Bringing international contemporary art to the Finnish capital
Ai Weiwei, 'Colored Vases', 2015
Helsinki might not yet be a main player on the global art scene, however the Finnish capital is brimming with culture, a lively community, and international exchange. Although no significant art fairs take place here and very few commercial galleries call Helsinki their home, much has happened in regards to cultural services over the past ten years. Restaurants opened, young designers have set up shop, and the cultural industry has built a solid base for itself. This growing internationalization has had a huge impact on how the city's inhabitants make use of their space and how they consume culture. Which, in turn, has had a strong, positive impact on the art market and its local artists (even though one can't deny the fact that the Finnish market remains quite small). One thing the country has got going for it is its supportive government. In 2015 alone, the Finnish government gave over 40 million Euros for artists' grants and subsidies – grants which were not quid pro quo based, but instead, the artists were free to do what they wish.
A key player in the contemporary art scene is Galerie Forsblom. Founded by Kaj Forsblom (a collector and along with his wife, Rafaela Seppälä, owner of the RKF Collection that's featured in the BMW Art Guide by Independent Collectors) in 1977, it is now run by Kaj and his son Frej. Back when it opened it was considered to be the first contemporary art space in Finland and is now widely recognized as one of the leading galleries in the Nordic countries. Located in an impressive old brick building, Galerie Forsblom presents between 15 to 20 exhibitions annually. The program showcases emerging talents, as well as established artists that are both Finnish and international. The gallery's director, Kiira Miesmaa, explains that they choose artists "that touch us, in one way or another". Their artists are usually found doing something which could be seen as "new" or interesting, and the gallery aims to give the Finnish audience a chance to see artists that would not otherwise be normally shown in Finland, considering the merging of international and local artists the red line throughout their exhibition planning. After all, Kaj Forsblom has run the space for over 40 years and has cultivated a strong relationship with his artists – something the gallery founder and directors are very proud of, enabling them to continue to exhibit established artists in their native Finland.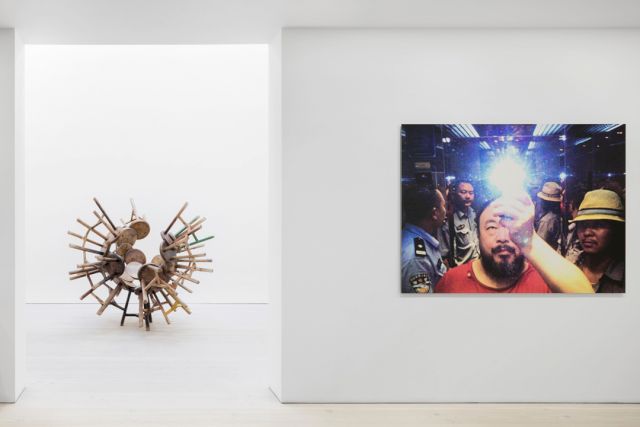 Kiira Miesmaa foresees a generational shift happening in the "artistic positions of power", with galleries and museums being steered by the younger generation and with new art followers entering the scene. The gallery wants to continue to foster Helsinki's art scene, help Finnish artists gain international momentum, and enrich the cityscape with its strong exhibitions. The 2016/2017 schedule will see solo shows by Hekki Marila, Chantal Joffe, Keith Sonnier, and Reima Nevalainen. Galerie Forsblom is currently showing Ai Weiwei's Exaggeration, which will continue to run until August 19th 2016.
by Liv Fleischhacker
Liv Fleischhacker is a freelance writer based in Berlin. Her favorite topics include art, design and food.
All images courtesy Galerie Forsblom, Helsinki