Lukas Jakob
Jakob Collection – Gundelfingen, Germany
Lukas Jakob between Karla Zipfel "Cloudslime" 2018 (left) and Raphaela Vogel "Rollo" 2019 (right). © Jakob Collection
Lukas Jakob was born in 1998 and has been collecting contemporary art since 2016. In various fields of tension between painting, sculpture, photography, installation and media art, the young collector examines contemporary art both on a regional and international level. The collection currently comprises 37 artistic positions in around 100 works.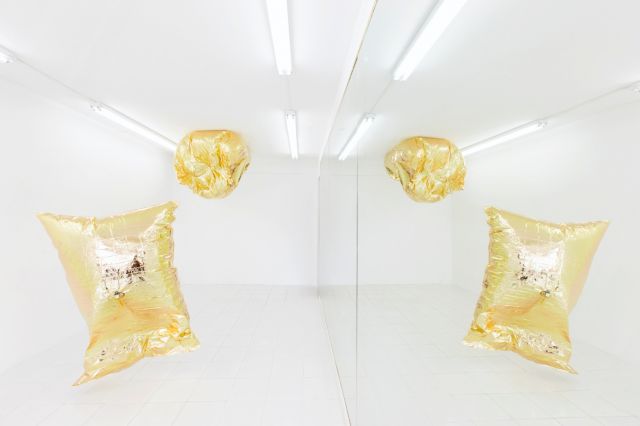 Tell us about the history and concept of your collection.
I grew up on the border triangle between Germany, France and Switzerland - a stone's throw away from the annual fair days in Basel, which has driven me a lot. My first interest was in female Berlin-based painters, currently I focus mainly on the DNA and questions of my generation. Besides, annual pop-up presentations, parts of the collection can also be visited by appointment in the heart of the Black Forest.
What inspired you to start a collection?
My first visit to the Boros Collection (Berlin, Germany).
Why did you decide to make your collection publicly accessible and what are the benefits?
The desire to share the works to the public developed early on. One enrichment of opening the collection to the public is what I can learn from the visitors. This part of understanding the works is essential for me as a young collector.
What were some of the biggest challenges you faced during this process?
To buy a 7 meters sculpture and to find a way to store it.
How important is having the title of "collector" to you?
In the introduction of the current BMW Art Guide by Independent Collectors, Christian Kaspar Schwarm speaks about "Patrons". I like the poetic idea that collectors play a protective role, rather than an owning role.
What advice do you have for starting a collection?
Collect mistakes and make friends.
How has collecting changed your approach to art?
The more I see, the more I feel the desire for difficult installations.
Do you have a personal relationship with the artist you collect?
In fact, it went so far that an artwork changed my private life.
What is your biggest hope for the future of art and collecting?
I look forward to an exchange with more collectors of my generation.