Deák Erika Galéria – Budapest, Hungary
Beyond Budapest's Baths
Tamás Hencze & Márton Nemes, 'Shaping Realities' (installation view). Photo: Péter Rákossy
Budapest is a multi-faceted city that's often described as the "Paris of the East". Before 1873 Hungary's capital used to consist of three separate towns: Buda, Óbuda, and Pest. Since its unification, the city has turned into a secret metropolis, where travelers come to seek out Budapest's unique baths and stay for the flourishing art and cultural scene.
One of Budapest's most established contemporary art galleries, Deák Erika Galéria, has thrived since its opening in 1998. Founded by Erika Deák the space represents a broad scope of both national and international painters, with Deák's primary focus lying on the initial emotional relationship the viewer has with art. "I believe that artworks speak to us. Only after we've forged a connection do we meet with the artists, which is followed by lots of talks after which we see whether we can support each other in the long run. I'm a rather faithful person, I like long term relationships and my artists also seem to like each other". Together with the gallery director, Zita Sarvari, Deák enjoys experiencing the world with open eyes. "We love discovering, curating, and making seemingly uncommon connections between artists and artworks. Hungarian history is particularly important".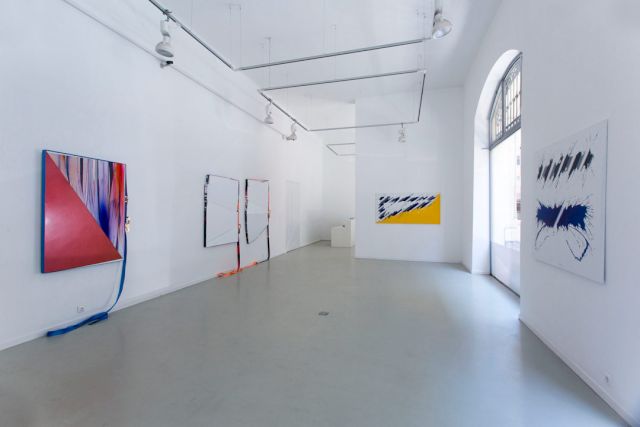 Budapest sees thousands of cultural tourists pass through its city walls each year and Deák says, "finally, we are no longer only known for our baths, which are amazing as well, but for our world famous wines, food, and young fashion designers. Contemporary art is slowly finding its well-deserved way into museums and art lover's homes". Erika is very happy to see her hometown make a name for itself as important huge cultural destination once again.
Though Budapest's art scene might still be characterized as "tremendously behind", Deák agrees that this fact is changing on a daily basis. Currently there are at least fifteen young artists who are exhibiting their work abroad. A statement, she says, she couldn't have made even ten years ago. "I'm an eternal optimist, otherwise I would have give up on this business a long time ago".
All markets re-interpret themselves from time to time, and the same is the case for Hungary: "Though the number of serious local collectors is not large, their numbers are growing and they are slowly opening up to international artists. We are seeing an increase in buying tendencies that support artists outside of Hungary. I continue to say that we have fantastic art, which deserves to be shown and seen".
Deák spent her twenties in New York, which taught her to remain curious and now as the gallery approaches its 20th anniversary next year, she reminisces on the key component to her success: "Merging my personal expertise with my director's knowledge and that of my staff. Working in a group is essential".
Over the next year she plans on continuing her mission, ensuring that contemporary Hungarian art has a greater international visibility, as well strengthening the local market. "We place great importance on continuing to discover, teach, and connect artistic generations," ensuring that Budapest will surely remain a cultural destination for years to come.
by Liv Fleischhacker
Liv Fleischhacker is a freelance writer based in Berlin. Her favorite topics include art, design and food.
All images courtesy Deák Erika Galéria, Budapest