Amanda Coulson
Director at VOLTA Basel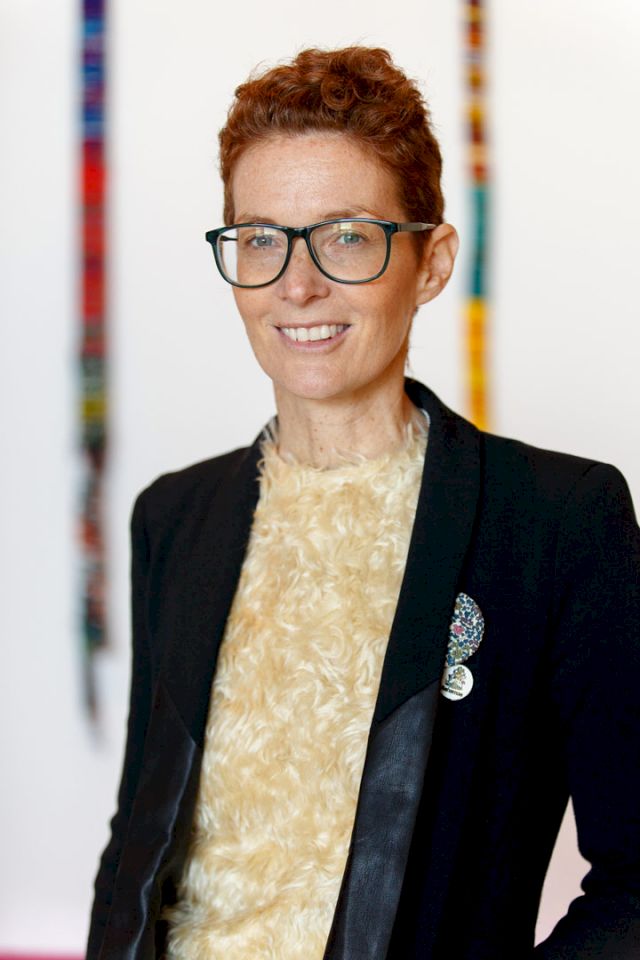 Amanda Coulson. Photo: David Willems Photography
Tell us a little bit about the history of the fair
VOLTA started in 2005 as a response to a niche we – the three founding galleries and myself– saw in the market: Liste was "young" – for galleries under five years old, artists under forty – and Art Basel was so blue-chip and mainly about ticking off famous names that you were already familiar with. We felt there was a huge gap, for galleries who worked with emerging artists as their mandate, but had stayed in business for more than five years, and for artists that were still emerging but not limited by age. As a thirty-eight-year old at the time, I was honestly a bit offended by the idea that creativity or originality ends at forty! Our first year – with twenty-three galleries – was hugely successful and we had to immediately move to a larger venue and the second year was forty-five. By then, the other fairs picked up that we had hit on some sort of target and Liste promptly started hosting their "graduates" and the main fair introduced a new section catering specifically to our demographic. Luckily there was also an expansion in the art market, so we were still all able to co-exist quite comfortably! In 2008, the license to operate our fair was purchased by a large real estate company in the US and they gave us a property to inhabit in New York, hence the birth of VOLTA NY. However, there was not the same niche in that city – there were plenty of satellites already – and we really didn't want to just be the sixth random fair, so we came up with the idea for solo projects only, which has worked really well for us and then similarly been taken up – also as a section – by the main fair there. It's really the ultimate flattery that the main fairs keep looking to us for ideas!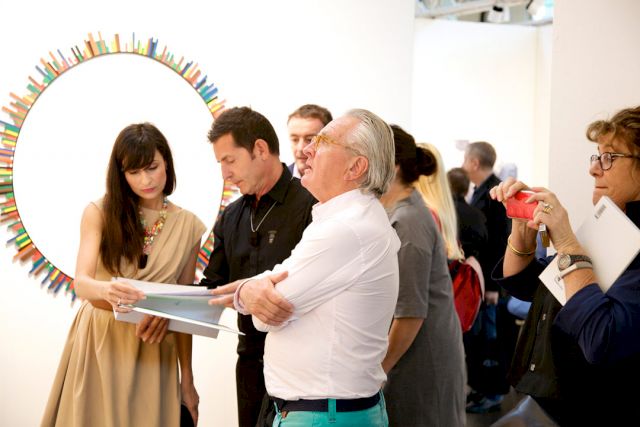 How do you, as fair director, ensure that the event stays contemporary and current in the fast-paced world that is the art market?
In New York it's easier since the solo project format makes it much easier to keep fresh and unique and in that fair we also introduced a sort of museum-style exhibition at the fair's core two years ago, working with curators like Derrick Adams and Wendy Vogel, that brings a focus on immediate production and issues. In Basel, we still ask for curated booths and we work hard with each exhibitor to make sure they are not just bringing a random selection of their stable of artists, which is where a lot of fairs fall down. Being small, we also make sure there are no repetitions – in some of the big fairs you see the same artist reappear again and again in different booths, which I find quite tedious. Furthermore, the whole point of a satellite is for your galleries to move along, so we keep our roster changing and – among the loyal galleries who prefer our size and scope – we always have a good roster of new galleries and discoveries. Our team travels a lot – I am in the Global South – Caribbean, South America, Southern US, and have a strong interest in Africa – two team members are in New York and make sure to get out and about regularly, including Europe and Asia – and so we cover a lot of ground to try and see as much as we can.
Is there something in this year's program that you are particularly looking forward to?
We have several exhibiting artists at VOLTA this year who are also showing in Venice at the Biennale, including Sopheap Pich (presenting in a solo with his longtime gallery Tyler Rollins Fine Art, New York, as well as in Christine Macel's curated Main Pavilion, Viva Arte Viva) and Karine Rougier (showing with Galerie Dukan, Paris/Leipzig, as well as co-representing Malta at that nation's pavilion). Both artists are notable, as Rollins last presented Pich with us back in 2012, concurrent with the Cambodian artist's participation in documenta (13), and Dukan showed Rougier with us in a solo project at VOLTA NY 2016. I am very interested to see what creative pursuits both have been up to since then. Among our first-time exhibitors, I am looking forward to the many opting for solo Basel presentations, including C&K Galerie (Berlin), who will show Berlin-based Lebanese artist Said Baalbaki; Galleria Bianconi (Milan), who presents this awesome Chicagoan performance artist Cheryl Pope; and massimodeluca (Venice), presenting Agostino Bergamaschi.
What do the artworks being presented at this year's fair reveal about the current trends and market?
There is certainly a political angle to a number of artists' works at VOLTA13. You can chalk that up to contemporary political movements – including Brexit and the new leaderships in the United States and certain European nations, among elsewhere – as much as market trends. I am thinking specifically of RoFa Projects (Providence), who debuted with us in New York this past March with this great interdisciplinary Honduran artist Lester Rodríguez, who conveys geography and movement via arrays of mostly commonplace objects like chess pieces and paper sailboats. Rodríguez is one facet of RoFa's international four-artist booth in Basel, which also features Mauricio Esquivel (El Salvador), Erika Harrsch (Mexico), and Santiago Vélez (Colombia) – all artists articulate sociopolitical concerns through a variety of wall-based and installation mediums, and all are quite indicative of RoFa's focused programme. Our longtime Barcelona dealer ADN is consistently culturally conscious, and they deliver a challenge to the visual literacy of iconography and symbolism with several gallery staples, including Kendell Geers (South Africa) and Carlos Aires (Spain).
Beyond these and many other artists working in such politically and socially aware means, are several examples of artistic tropes we've been hearing a lot about lately. For "new media" there is Antoine Schmitt and Flavien Théry, who both incorporate video and light spectrums into the vocabulary of their practice. They are presented by Galerie Charlot, another of our first-time dealers and I am really thrilled about it. This further extends to Nadav Drukker, one of Knight Webb Gallery's (London) artists, who is a theoretical physicist at Kings College in London and creates these uncanny ceramic sculptures using CERN technology. Another is Dana Dal Bo, presented by dc3 Art Projects (Edmonton), who critiques "selfie culture" and self-surveillance via an interactive installation.
I can go on, but listing all the highlights would necessitate listing each and every VOLTA artist at this year's fair – I really do feel that strongly about each of them! Bottom line is, there is really something special for everyone at VOLTA13: be it painting (from the consistently hot Cluj School or Leipziger Schule or somewhere else), photography, video, sculpture, or some other medium and discipline entirely.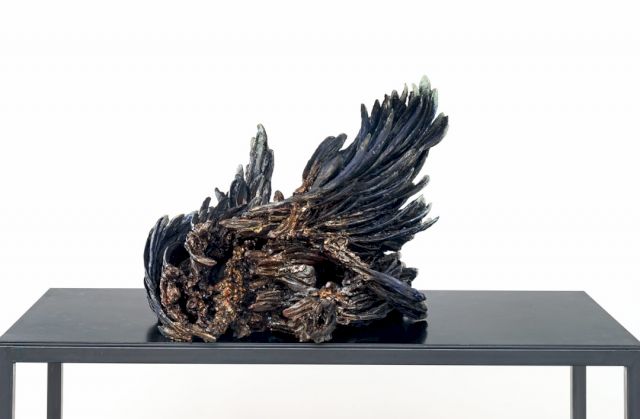 What advice do you have for the collectors that will be attending the fair this year?
Be adventurous and engage. Use your eyes and stomach and not your ears (i.e. don't just listen to the latest trend, go with your gut!) and be rigorous. I always take the map from any fair and make sure I really check off each booth, so I am sure not to miss anything. It's hard work but it's worth it. When I get tired, I take a break outside or do something to refresh my brain before diving back in again to the fray; luckily we have two amazing artisan coffee bars (and a whiskey bar as well!), plus the most amazing chef working at VOLTA, Marcus Meyer and his namesake Culinarium, who creates the most incredible menus, so I go and take a break with Marcus and get inspired with his creativity! While I think it's normal to listen to ones friends and colleagues, I always really encourage collectors to be curious and not to follow the herd, to look at these sorts of art weeks as huge places for discovery and to be an explorer of sorts. It's nice to go to the same locales and meet all the people you expect to see, but often the real finds are somewhere unexpected, at a gallery you never heard of, at a fair you thought you might give a miss, and somehow those are the ones that are more special.
In addition to Art Basel, what exhibition or event is on your "must-see" list?
I've not had a chance to attend this year's Venice Biennale – yet, that is! – with plenty of exhibitions and events close to home, including a new suite of three exhibitions at The National Art Gallery of the Bahamas (NAGB), as well as participating in the third iteration of the Tilting Axis conference, this year in the Cayman Islands, and having just been a selector for the 2017 Jamaica Biennial, in both Montego Bay and Kingston. Obviously the "Grand Tour" – the 57th Venice Biennale, documenta 14 in Athens and Kassel, and Skulptur Projekte Münster – is a must for those who can do it and I'm going to both documenta in Kassel and the Zürich Gallery weekend before I even get to Basel. I'll also be stopping off in Leipzig to see a show supported by the NAGB at Stiftung Federkiel's Halle 14 in the Baumwollspinnerei, which is open until August 6th, entitled "Ubersee/Overseas: Cuba and The Bahamas, contemporary art from the Caribbean" and, even though I am biased, I think everybody should see it because it's so unexpected. People seem to think we should all be wearing grass skirts and making coconut art and this will be an eye-opener!
Locally in Basel, I look forward to experiencing Yan Xing's solo exhibition "Dangerous Afternoon" at Kunsthalle Basel, which will open around fair time. Yan was a recently international resident artist at the Davidoff Art Initiative's base at Altos de Chavón School of Design in the Dominican Republic, and as a Caribbean-based director and educator myself, I am keen to their efforts and outreach and consult for them. As well, the exhibitions by our cultural partners in Basel and nearby do not disappoint. The exhibition organized by Katerina Gregos for La Kunsthalle Mulhouse, "A World Not Ours", is particularly timely due to its sensitivity to recent global conflicts. The exhibition has its usual Basel reception on the evening of the 16th of June. Jérôme Zonder and Wim Delvoye's exhibitions at Museum Tinguely continue that Basel institution's foray into thoughtful programming. And finally, the upcoming exhibition at Vitra Design Museum, "Together! The New Architecture of the Collective", seems quite timely as well, from its basis in utopia and uprisings over housing shortages and inequality, to contemporary trends with cooperative living and social innovations.
All images courtesy VOLTA Basel