The Past is Back
And collectors are buying it up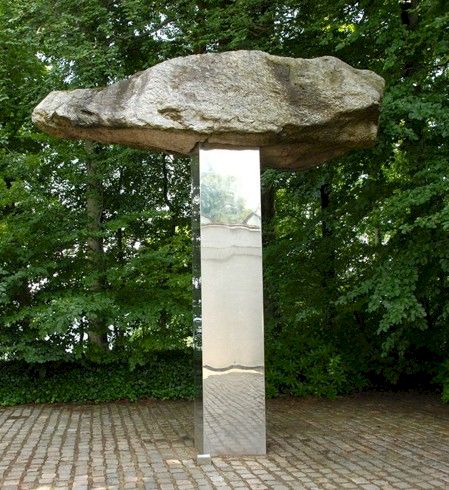 Nobuo Sekine, "Phases Of Nothingness", 1970
It seems that "the next big thing" is an old thing this time: Cristina Ruiz from The Art Newspaper encountered a group of sculptures created in the 1970s by Japanese artist Nobuo Sekine at this year's Art Basel Unlimited section. In a recent article she writes that more and more works from the 1960s and 1970s, that were forgotten or destroyed, are being recreated and exhibited. A prime example of this would be the recently opened exhibition "When Attitudes Become Form: Bern 1969/Venice 2013". This exhibition is a painstaking restaging of the legendary exhibition "Live in Your Head. When Attitudes Become Form" curated by Harald Szeemann in 1969.
The original show "When Attitudes Become Form" has been said to encapsulate the spirit of an era when artists believed anything was possible. Many of the exhibited works were created from found or organic material and nobody really thought of selling them. The fact that the works are often ephemeral in nature made it especially difficult to sell them to anyone else but museums. Often these institutions are the only ones that have the resources to properly store the works.
But recently, private collectors have also started buying these works from the 1960s and 1970s. Franco Fanelli, contemporary art critic of Il Giornale dell'Arte, sees two main reasons for this new development. First, the market confidence in emerging artists has faltered somewhat. And second, the works are often much more radical in comparison to many things being made today, and generally cheaper as well. According to Michael Govan, director of the Los Angeles County Museum of Art (LACMA), these 40-year-old works are now considered "more formative in terms of changing the terms in which art is considered".
Perhaps this is why we find ourselves in the middle of a resurgence of interest for works by for instance the movement Mono-ha of which Nobuo Sekine was an important member. His work can now be found in the private collections of amongst others Howard Rachofsky, Bernardo Paz and François Pinault.
Image by: FaceMePLS, CC Licence Info, via Flickr