A Private Matter?
On the importance of physical space for the value of art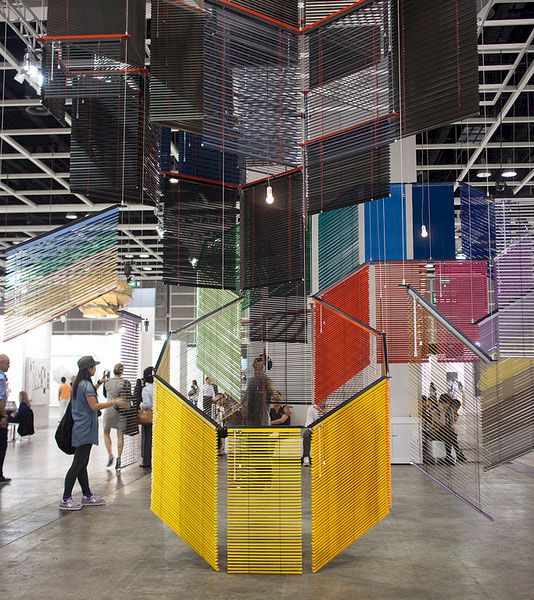 Visitors at Art Basel Hong Kong 2013 in front of a mixed media installation by Haegue Yang
In a time of increasing digitalization, it will become increasingly common in the future that we will not have to leave the house anymore to do everyday life activities like work, leisure or shopping. Through increasingly intelligent computer technology, we will be able to conduct everything from our private home, letting the virtual world define our social interaction and perception. Of course the question is: what happens to actual physical space and the concept of the public? Stepping back from this futuristic vision, it is notable that these questions are already today widely discussed - also in the art world.
In a recent article published in The Art Newspaper, author Blake Gopnik discusses the value of physical gallery space. In the last years, more and more art dealers have chosen to abandon the concept of a physical gallery space and to present their artists only at fairs or through the Internet. This is due to the increasing importance of art fairs and online sales, as well as avoiding high rents in art metropolises such as New York, London and Berlin (yes, also rents in this city are rising).
On the contrary, Marc Spiegler, director of Art Basel, explains that a physical gallery space is essential, not only to give some respect to and inspire the represented artists, but also to serve as a place for clients to visit. Furthermore, the location and space can already tell much about a gallery's program.
But is that really all that matters? Blake Gopnik answers this question with "no" by pointing to the importance of the cultural value of an artwork that is generated by the public. Bringing art exclusively to private spaces, a broader cultural value that is essential to the artworks' value, will be lost. In the words of the author "to the extent that fairs and websites are pushing galleries to the margins, they are also marginalizing the art their clients present."
Image by See-ming Lee, CC Licence Info, via Flickr; Mixed media installation by Haegue Yang: Courtesy Kukje Gallery, Seoul