Kraupa-Tuskany Zeidler – Berlin, Germany
One of the most cutting-edge galleries in Berlin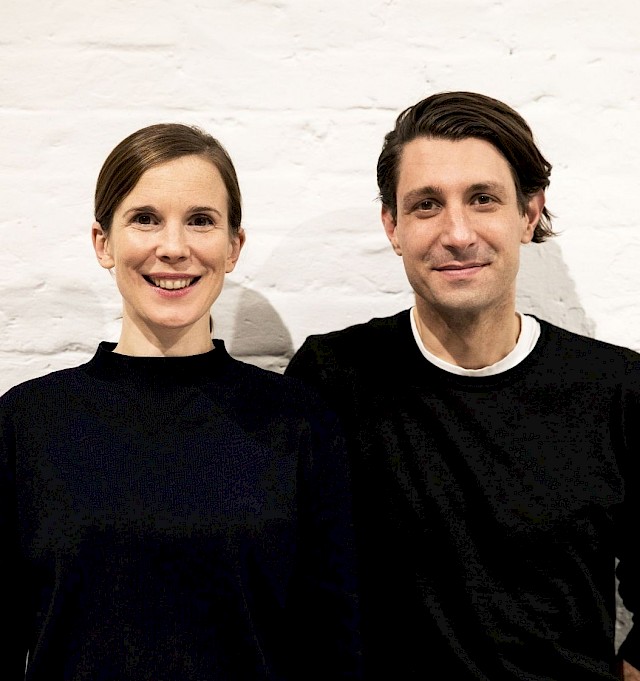 Nadine Zeidler, Amadeo Kraupa-Tuskany
An art collector turned art dealer, Amadeo Kraupa-Tuskany, along with partner Nadine Zeidler, runs one of the most cutting-edge galleries in Berlin. Kraupa-Tuskany Zeidler, as the gallery is called, has already made a relocation to a larger space and now exists in the very trendy Kreuzberg, in an equally industrial and charming courtyard setting which resides amongst a new and growing gallery precinct surrounding the Maybachufer bridge area.
Kraupa-Tuskany and Zeidler both come from Munich, and they are in their early thirties. Nadine Zeidler studied art history and then worked as a curator in Germany and in the United Kingdom at the Nottingham Contemporary, a flagship institution which supports culture outside of London and which also has a notable social commitment. Amadeo Kraupa-Tuskany comes from a different background. He studied law and came in contact with art as a collector. He was not sure if he should pursue his career in law or follow his passion for art, but he eventually decided to dedicate himself to art. So he first went to Brussels and worked at Jan Mot's gallery, which was a very important experience for him. Then, the two started thinking of opening a gallery in Berlin together.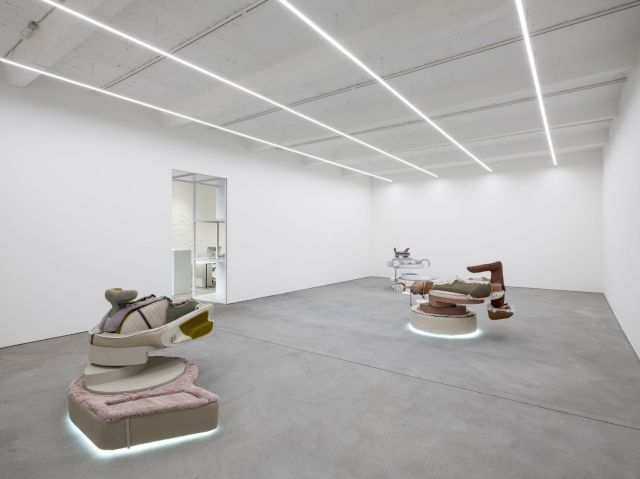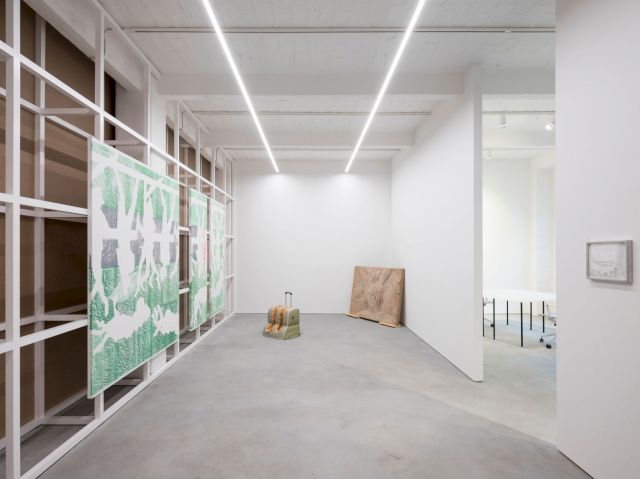 "When we decided to open a gallery we both started reading Bruno Latour and this was a key experience for us," Nadine Zeidler told me in an interview at the gallery. "We both had the feeling that there is a new generation of young artists trying to break with the tradition of modernity. The linear narrative does not play an important role anymore, while cross-linked thinking has become central. Internet and new media have contributed to a change in the way of thinking, because when you do research you have access to multiple fields and disciplines at once."
The first exhibition, in October 2011, was a solo show by Sture Johannesson, an elderly psychedelic artist who was one of the first artists to work with digital art and who also collaborated with IBM. His work is about overcoming the limits of consciousness and building a knowledge beyond rationality.
Both Kraupa-Tuskany and Zeidler were convinced that the right location to open their gallery was Berlin, even if a lot of people told them they were crazy because the competition there is so intense. They discounted having the gallery in a shop on the street. They wanted an office atmosphere. "We do our business here," Nadine Zeidler said. "In a way it is honest, because in the end we are art dealers as well. We started looking around the tower blocks and we found this space. Coincidentally, the space was the floor's old server room, which we found very funny because computer art is one of our interests."
All the artists of the gallery are quite young but have already had success and are involved in various exhibitions. The most established are Slavs and Tatars, a collective who deals with the theme of Eurasia from a point of view of history, language, politics, and geography. Slavs and Tatars began as a reading group. Now they make publications, sculptures, installations, and lecture performances. They have already exhibited internationally and had a solo show in the MoMA project room for emerging art. "They have a crazy exhibition schedule," Zeidler said. "We are going to show their newest sculptures at FIAC in Paris."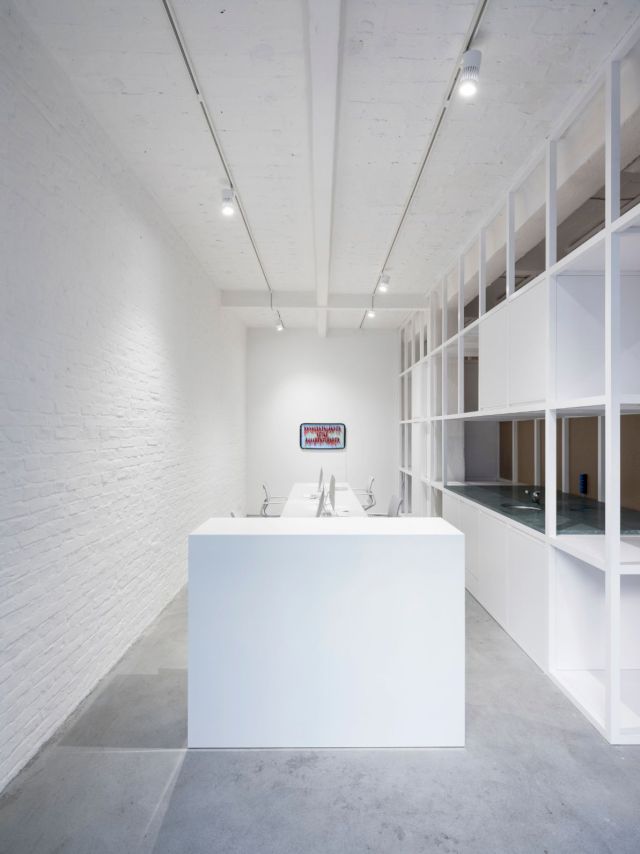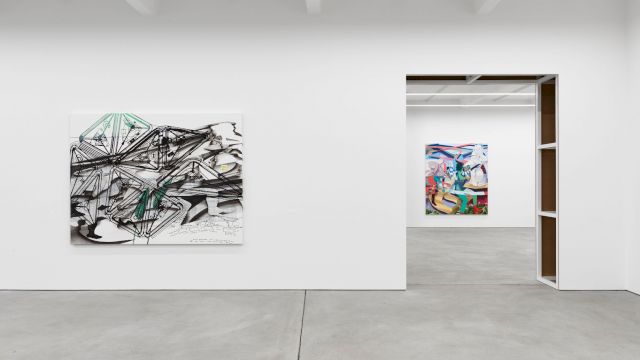 Beside FIAC, Kraupa-Tuskany and Zeidler are going to participate in the Sunday Art Fair in London. They often dedicate their booth to a single artist in order to give a complete view of their production. In the past they have already participated in ABC in Berlin, Liste in Basel, MiArt in Milan, Independent in New York, and Art Cologne. Important centers for Kraupa-Tuskany Zeidler are Paris, London, and New York, as they also have some American artists like Avery Singer and Daniel Keller.
Other young artists, whose career the two gallerists are now building are, for example, Florian Auer, a German artist who has studied in Frankfurt with Tobias Rehberger, and Katja Novitskova, an artist from Estonia who studied design at the Sandberg Institute in Amsterdam. Sture Johannesson was the only elderly artist (he passed away in 2018). "He had a very strong personality and was skeptical about the market. It was not easy to gain his trust."
Speaking of the market, I ask Nadine Zeidler what is their relationship with collectors. "We like to develop a dialog with them, because the art we offer has always a conceptual or literary background. It is not always easy on the market, but our collectors always show curiosity and interest in learning about the artists."
by Silvia Anna Barrilà
The freelance journalist Silvia Anna Barrilà is specialized in the art market. Since 2008 she has been writing for the Italian financial newspaper Il Sole 24 Ore and for international media covering art, including Damn, Auction Central News, Artinvestor, and Monopol.
Images courtesy of the artists and Kraupa-Tuskany Zeidler, Berlin