"I don't think anybody has been to all these places."
– Hans Ulrich Obrist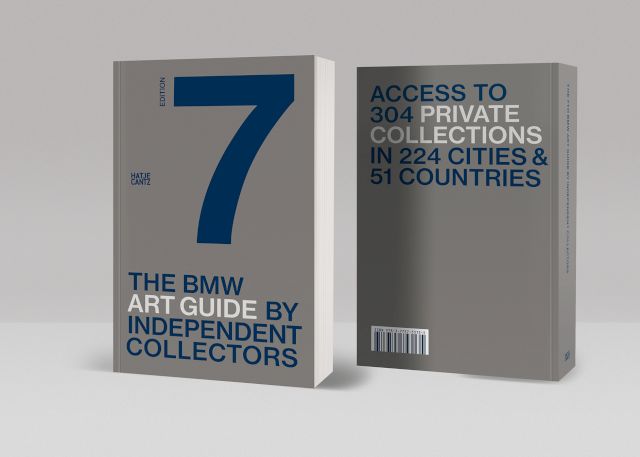 What started off as an ambitious and daunting task back in 2012 to gather a world-wide list of privately owned contemporary art collections with public access, resulted in a pocket-sized publication with the hope to increase the accessibility of privately owned art to the general public. The BMW Art Guide by Independent Collectors is your go-to guide to discover new collections where art is presented in the most diverse and interesting settings. The first of its kind, the Art Guide is your perfect companion for city trips abroad or for finding havens of contemporary art right on your doorstep.
The 7th edition of the BMW Art Guide by Independent Collectors presents 304 private yet publicly accessible collections of contemporary art — featuring large and small, famous and the relatively unknown. Succinct portraits of the collections with color photographs take the reader to 51 countries and 224 cities, often to regions that are off the beaten path.
BMW Art Guide by Independent Collectors Spotlight
BMW and Independent Collectors have been in a long term partnership since 2012. Together we aim to create exciting projects to further portray and investigate the manifold world of collecting.

About Independent Collectors:
Existing as the very first digital platform for collectors of contemporary art, Independent Collectors was founded in 2008 by a group of collectors surrounding Christian Kaspar Schwarm who dared to open access to a previously hidden world. Today it is the largest non-commercial archive of private collections worldwide.


Cultural Engagement at the BMW Group:
For almost 50 years now, the BMW Group has initiated and has been engaged in hundreds of cultural collaborations worldwide. The main focus of its long-term commitment is set on modern and contemporary art, jazz and classical music as well as architecture and design. BMW is eager to allow these projects the absolute freedom to achieve their full creative potential. Besided the BMW Art Guide, other notable examples of its involvement in the arts are the BMW Art Cars, the BMW Art Journey and BMW Open Work by Frieze.
BMW's cultural engagement